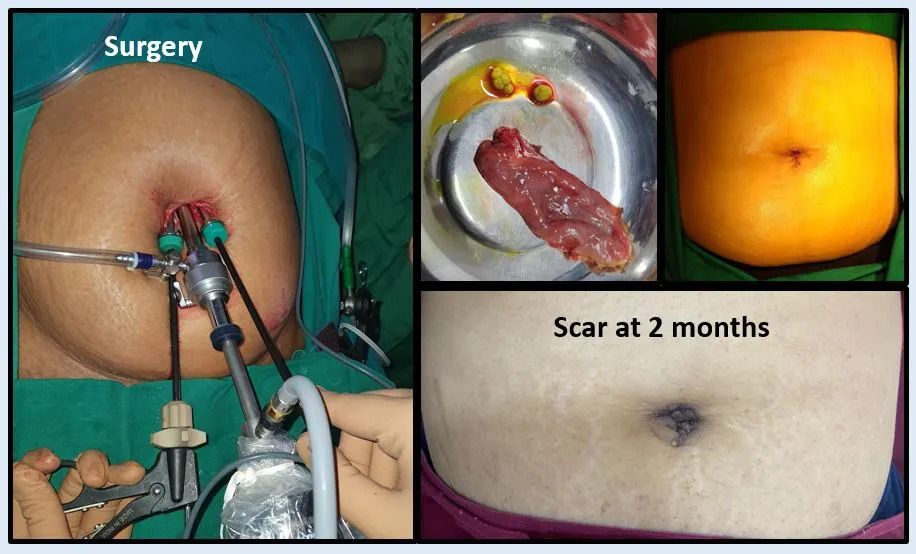 SILS (Single incision laparoscopic Surgery) Cholecystectomy
Laparoscopic cholecystectomy (Minimally invasive Surgery) has revolutionized management of symptomatic gallstones. With accumulating experience patient outcomes have improved. Today some centres even offer this procedure as a Day care surgery with admission and discharge on the same day.
To further improve upon the patient experience and the surgery outcomes, surgeons started devising ways and means to decrease the size and number of incisions. With the traditional four port laparoscopic cholecystectomy as the baseline, modifications like Three port laparoscopic cholecystectomy, 3 mm incisions and ports, Single incision laparoscopic cholecystectomy were devised. The aim was to decrease postoperative discomfort, improve cosmesis and hasten the postoperative recovery.
In SILS (Single incision laparoscopic Surgery) Cholecystectomy / SILC (Single incision laparoscopic cholecystectomy) a single incision is placed over the umbilicus and Laparoscopic instruments are introduced to complete the surgery. Either a commercially available SILS port or multiple sheath puncture technique with traditional instruments can be used. With multiple puncture technique there is no escalation of cost vis a vis traditional Laparoscopic cholecystectomy and incision site complications are lower compared to commercial SILS port (Maximum incision on the sheath being of 10 mm). The gallbladder is dissected and removed via the same incision.
Limited freedom of movement, only two available working instruments (three in traditional 4 port laparoscopic cholecystectomy), clash of instruments, etc are some of the challenges the surgeon faces. Suture retraction of gallbladder, complete two-handed dissection, one handed intracorporeal suturing are some of the innovative techniques we apply to accomplish the task at hand with reasonable safety.
The superior cosmesis and postoperative recovery comes bundled with small inherent risk of complications. There is enough literature today to attest to the safety and efficacy of SILS approach vis a vis traditional 4 port Laparoscopic cholecystectomy. In fact, SILS technique is being employed by experts worldwide for ever increasing types of surgeries. If we consider Risk benefit analysis, the benefits definitely outweigh the risks involved.
Attached are few intraoperative photographs showing the port placement, gallbladder dissection and the postoperative scar.
Our Data :

Over the past three months (March 2021 to May 2021) we have done SILS Surgery in 23 patients (Cholecystectomy 22 patients, Appendicectomy 1 patient). The mean operative time was 95 minutes (Range 60 to 180 minutes) and the mean blood loss was 40 ml (Range 10 to 100 ml). Mean age was 48 years (Range 18 to 87 years) and the mean BMI was 27 (Range 21 to 40). Three patients had Acute cholecystitis & another two were post ERCP. Additional ports were required in two patients. None required conversion to traditional 4 port Laparoscopic cholecystectomy. All patients had an uneventful postoperative recovery and were discharged home within 24 to 48 hours of Surgery.
Regards
Dr Hemant Jain.
Ms Mch (GI surgery).
Laparoscopic and GI surgeon.
Specialist in laparoscopic surgeries, GI cancer surgeries in Mumbai.
Visiting consultant:
Nanavati hospital Mumbai Criticare Hospital Andheri Mumbai. Upasani Hospital Mulund (W) Mumbai.
9968118307
Opd :
Star Healthcare Andheri (W) Daily 5 to 6 pm
Upasani Super Speciality Hospital. Mulund (W)